🏳️‍⚧ The Transflagifier 🏳️‍⚧
See the Trans Flag emoji as it's supposed to be!
Does your web browser display 🏳⚧ instead of the trans flag emoji? If so, try clicking on this:
Transflagify!
You should see that all instances of 🏳️‍⚧ are now being displayed correctly!
If you drag and drop that link on to your bookmarks toolbar...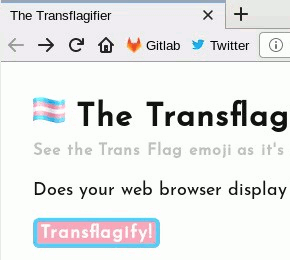 ...you can use it on other websites, such as the trans flag page on Emojipedia!

The source code can be found on Gitlab. Conversion into a bookmarklet was done via bookmarklets.org